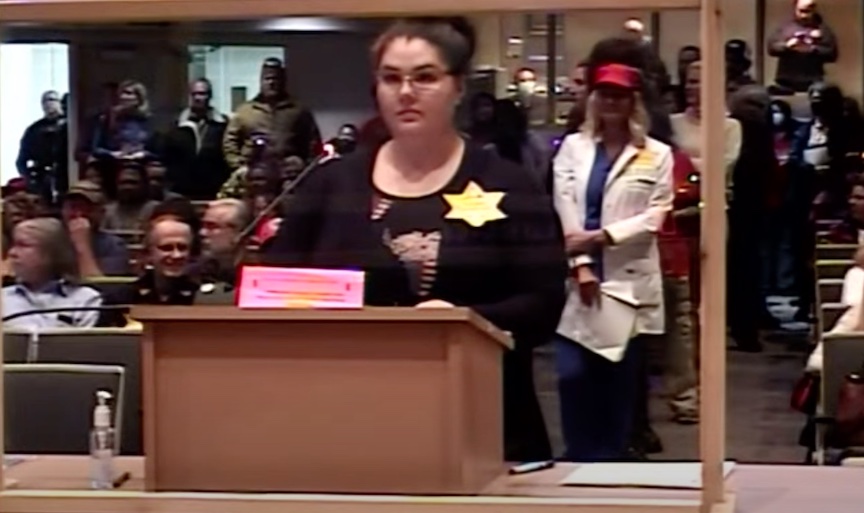 Yellow stars on lapels, worn in solidarity with Jews, anger left politicians and Anchorage Jewish community
On Wednesday night, many people wore yellow Star of David cutouts on their clothes when they attended the Anchorage Coven meeting. They pointed out that the Assembly's intention to make people say about others who do not wear masks is the slippery slope towards Nazi Germany.
The left fought back. Assembly member Chris Constant even sent a message of "help" to the Holocaust Museum. Twitter was filled with comments.
Ultimately, the Mayor of Anchorage released a statement on the use of the Star of David and rowdy behavior over the last two nights of Anchorage Assembly meetings, where the public turned out clearly opposed to the mask mandate pushed by the left-wing majority. .
The declaration in total:
"I understand that we should not trivialize or compare what happened during the Holocaust to a mask warrant and I apologize for any perception that my statements support or compare what happened to the Jewish people in Nazi Germany was one of the worst and darkest times in the history of our world. I should have chosen my words more carefully, and if I offended anyone, I'm so sorry. Anchorage has always been a city that takes care of its neighbors, regardless of the differences that exist between us. We love a good debate and talking about issues that matter to us and our families. I respect the right to everyone to petition their government, to speak out for or against major policies with far-reaching impacts. But we must do so with decorum and respect. It is never appropriate to resort to name calling, bullying or hate, in any way circumstance. Everyone in this city loves Anchorage, just like me. Every Coven loves Anchorage. Being called upon to hold public office means you want to make your community a better place. This is certainly why I chose to run for mayor, to make our city move forward and become the city we all know it can be. But we can't achieve this if we yell at each other, curse our neighbors, and use profanity and offensive language to describe each other. It is counterproductive and creates a toxic environment where nothing can be done. So, for those who oppose this ordinance, I ask you to be polite. Keep your comments forceful but respectful, and based on politics, not personality. For those of you who come together for the ordinance, I ask the same. We need to keep our cool and listen to each other if we are to move this city forward. The last two nights have been passionate and even stormy at times. That being said, let's debate the issue tonight on its merits, and avoid any mean and offensive language in doing so. Members of the Assembly, you have my full support in calling for calm this evening, and my promise to work with you to ensure that all voices are heard in a way that respects everyone on an equal footing. . My faith obliges me to follow the golden rule, and I would ask the same of everyone here tonight.
The Star of David was worn by those who believe the warrants go down the wrong path, the path the Nazis took when they isolated Jews, gays and the disabled, and ultimately took them to concentration camps, where up to 11 million were killed or died.
Learn more about the Holocaust in this story from the Atlantic Monthly.
The Assembly meets again on Thursday from 6 p.m. Other testimonies are awaited.