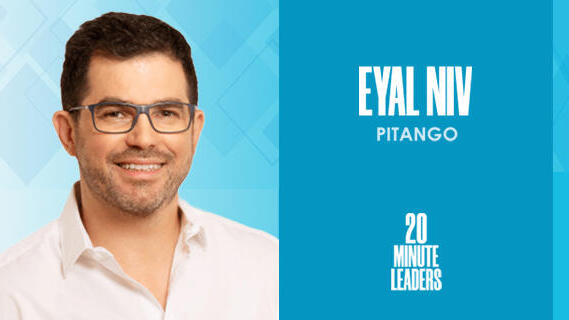 "We focus on things that would really change the world."
While many investors are looking for disruptive technologies, Eyal Niv, managing partner at Pitango, prefers to think of these world-changing ideas as catalysts. He explains that Pitango is focused on investing in technology that will change the world, but in a way that is positive and empowers people rather than replacing them. Once the investment is made, Niv shares that he likes to stay informed about the company's product and market. But he knows that the founders make the decisions and he can only make suggestions. He explains that one of his favorite things about helping portfolio companies is building a great team early on to make sure the rest of the journey goes more smoothly. While Niv loves supporting founders early on, he also shares that it's important to help businesses build their own muscles so they don't need long-term support.
I'm really excited to reveal your journey in Pitango First, but take me back to your own upbringing and what leads you to the intersection of deep technology and investing.
I was born in Israel. I moved to South Africa when I was 12. I really loved technology. I had been programming since I was nine years old. My dad said, "You have to learn to program."
No. He was an entrepreneur and always looking to the future. I thought, "What is it, I'm going to start playing with a computer." At the time, it was Commodore 64. He bought me the first PC. I remember I was so happy. I went to friends' houses every day and we learned to program. So that was my first interaction with computers and technology.
Then I moved to South Africa, and there it was more math. When I was 16, I started a small company called Super Computers where we did enterprise application integration. We have tried to help research centers, hospitals and medical centers to do research and use PCs while they are using their old systems.
Then I did everything backwards. I started a business when I was 16. I then left to study actuarial science in South Africa. Then after I finished that, I came back to Israel and I went to the Israeli army, and I spent time with Unit 217 (Duvdevan), where I had a very meaningful time and I had a lot of interaction with technologies. Some of your listeners would probably know our missions from the Netflix series Fauda.
Then I got out of the army; I was here in Israel and exposed to all these great technologies being developed. I said, "I'm going to start my own business." It was difficult at the time to do so. I said, "I'm going to start with a VC, then after I'm done educating myself, I'll start my own business." Twenty-two years later, I'm still doing venture capital. But I take advantage of it.
Take me back to when I was 16. You understand that technology has the ability to become an enabler for research centers, hospitals and businesses. Where did this understanding come from?
At that time it was more about the need to just configure the PC system and interact with all the AS400s and mainframes and put it all together. We had to build a network and allow computers to talk to each other. It was so difficult because people had to enter information into one system and then enter it into another system. You couldn't really search for anything because everything was so proliferated.
But back then it was more about starting a business with a friend, trying to make some money and feeling independent.
Tell me about Pitango, then your entry into Pitango First.
Before Pitango, I was at Giza Venture Capital. I was running their last fund, and then we parted ways. Rami Kalish and Chemi Peres said, "Why don't you come join us and form a new focused fund, which will only do seed investments? It gave me the opportunity to invest in cutting-edge technologies and to have the ability to make early stage investments with the ability to make follow-on investments.
What is unique to Pitango is that we have a comprehensive fund. We can enter a new investment very early and continue to invest in follow-on investments. We have a specific seed fund, which is Pitango First. We have a growth fund, as well as a health technology fund.
We are very keen to get into AI, AI processors, AI as deep technology. We also do quantum computing. We are very oriented towards deep tech. We also have an operational platform. We have six full-time people who only do operational work for our startups, which gives us a unique proposition.
What is the relationship between Pitango First and a company? What does this process look like?
Above all, we try to do quite a bit of research before every investment we make. Then, after the investment, that partner will try to help the founders find the right product for the market, which I think is the most important thing for any founding team. Some of them are more advanced and experienced in this area, so not all founding teams need the same level of support.
There's a lot of acceleration that needs to happen in the form of hiring, marketing, business development. There's a whole support team that onboards a new business and helps it speed up some of these functions. I think the most important thing is to help these companies build their own muscle. The idea isn't to sustain them for very long, but rather to help them build that muscle internally.
Already in Pitango First, you've supported some of the high-tech companies we're most proud of. They are catalysts for change. Share with me some of these companies and their stories.
We really try to focus on inflective ideas, things that would really change the world. Some people call them disruptive technologies, but I think they're more enabling than disruptive.
For example, we see the company called AI21. The idea behind AI21 is to create an AI model that is scalable and much more efficient than any AI model in the world. The marriage between AI and knowledge representation creates a much more efficient framework. They have developed their own personal writing assistant, which helps people write. It's called Wordtune. I like to call it Grammarly on steroids. It takes everything you write, and in real time rephrases and updates it. Whether you want it longer, shorter, sportier, more polished. Whatever you want, this technology can understand the context of the sentence or the paragraph, and it proves that it makes machines understand a long text.
You are also involved with Graphcore, Optibus, Komodor, Lumigo, Stream Elements. What really unifies them is this empowerment. How do you see yourself as part of these journeys?
It is above all a support role. The founders are the pilots; they are the ones we must support. I try to learn about their ecosystem and technology and make sure that whatever I say on the board will not interrupt them, but will only add value. My ability to give them good advice simply comes from seeing more companies, rather than seeing myself as having more ability. I try to stay modest and understand that they are the ones driving. They have their hands on the wheel, and I can only make a suggestion.
The most important thing as a board member is to stay informed about what the company is doing. Have a passion for the product. One thing I love helping them do is build a top notch team. From there, the ride is much smoother.
You also have a responsibility to know whether you support a solution that will have a positive or potentially negative impact. How do you think about that responsibility when making those investments?
We have great companies that I think have a real impact on how people live their lives. ESG is a big part of what we do, and positive impact is a big part of how we do things. We have a full-time person solely for ESG, internally and for our portfolio companies. The way we think about it is that everything should be positive and empowering: rather than replacing people, empowering people.
Michael Matias, Forbes 30 Under 30, is the author of Age is Only an Int: Lessons I Learned as a Young Entrepreneur. He studies artificial intelligence at Stanford University, is a venture capital partner at J-Ventures and was an engineer at Hippo Insurance. Matias was previously an officer in Unit 8200. 20MinuteLeaders is a series of tech entrepreneurship interviews featuring one-on-one interviews with fascinating founders, innovators and thought leaders sharing their journeys and experiences.
Contributing Editors: Michael Matias, Megan Ryan