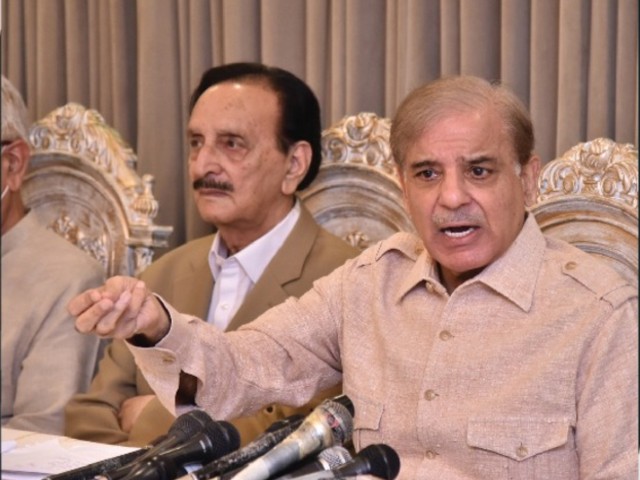 The PML-N attacks the government for "threats" against the ECP
ISLAMABAD:

The Muslim League of Pakistan-Nawaz (PML-N) rose up on Friday at a press conference by Federal Ministers Fawad Chaudhry and Azam Swati and Prime Minister's adviser Babar Awan, following the rejection of the proposal on the use of the electronic voting machine (EVM) by a Senate committee.
PML-N President Shehbaz Sharif, Marriageyum Aurangzeb Party Spokeswoman and PML-N Vice President Maryam Nawaz have separately issued strong statements condemning what they call threatening language used by officials. of the government.
In a statement, Shehbaz said the government had an opportunity to "issue threats" at the Standing Senate Committee on Parliamentary Affairs meeting on the issue of the VPD, as it did not have an answer to the objections raised over its decision. technical and procedural operation. .
The president of the PML-N, who is also the leader of the opposition in the National Assembly, said the Pakistan Election Commission (ECP) had raised "strong and clear" objections to the associated technical and operational issues. at the MEV.
Read more: PM writes to Shehbaz about vacant ECP positions
The ECP's objections, he added, raised the question of the transparency of future elections but the government has not received a response. "On Friday, the representatives of the ECP had to withdraw [from the Senate committee meeting] on the attitude of government officials.
Shehbaz said the ministers' threat to "set institutions on fire and send them to hell" reflected "terrorism" and was highly reprehensible. "This, terrorizing and threatening," he added, was the nature of the ruling Pakistan Tehreek-e-Insaf (PTI).
Meanwhile, in response to the ministerial press conference, PML-N Information Secretary Marriyum Aurangzeb said the PTI was attacking democracy and the Constitution by threatening, harassing, terrorizing and attempting to coerce it. ECP.
Marriyum said the ruling PTI had committed "the most egregious contempt" of the ECP demanded punishment for ministers under Article 10 of the Election Law – which details the power of the election supervisor to " impose sanctions for contempt.
The PTI threatened the Election Commission during the Senate Committee meeting, then launched an attack on the Election Commission through talks with the press. "The PML-N will not allow [it], no matter how many threats, terror tactics and harassment this government uses ".
Separately, going to the microblogging site Twitter, PML-N leader Maryam Nawaz wrote that the government was threatening to set the ECP on fire but no one was there to question them.
"We did not criticize the institutions but only the negative characters who were hiding there. But here the government threatens to set the whole institution on fire and there is no one to question [them], she tweeted.