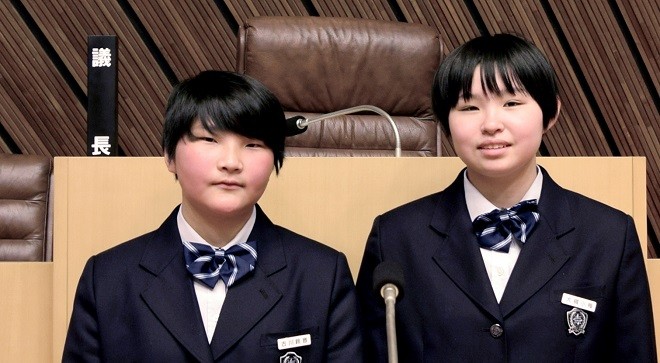 Teenage couple ask mayor to set aside 100 million yen to upgrade facility
HIGASHIDORI, Aomori Prefecture – Two junior high school students have taken matters into their own hands to ensure their classmates don't suffer when summer temperatures here soar above 30 degrees by asking the mayor to commit a sum net to modernize the facilities.
Mayor Toshiaki Hatanaka of this small Pacific community of just 6,000 people was so moved by their request that he asked the village assembly to include 100 million yen ($748,000) in its budget tax to carry out repair work on the floor and install air conditioners in the classrooms.
Rin Furukawa, the 14-year-old captain of the Higashidori High School Athletics Club, the small village's only educational institution catering to students of that age, was disheartened by the poor condition of the ragged 400-meter track filled with bumps and hollow.
Koume Otsuki, also 14, was devastated to see his classmates rush to a local hospital after collapsing from heat stroke during class.
Located on the Pacific side of the Shimokita Peninsula, the village has depended until recent years on a northeast wind known as "yamase" to keep it cool in the summer.
But nowadays it is not uncommon for the mercury to exceed 30 degrees.
Otsuki decided something had to be done to change the environment in the classrooms.
So, last November, the duo attended a "mock assembly session" to ask the mayor to repair the schoolyard and install air conditioners in the classrooms.
Their direct approach touched the mayor's heart, prompting the village assembly to include 100 million yen in its budget to meet their demand.
The couple gained national attention for their dynamic involvement in local politics to achieve their goals.
Kenta Izumi, the leader of the main opposition Democratic Constitutional Party of Japan, praised the duo on his Twitter account.
Furukawa and Otsuki said they were just thrilled that their efforts yielded the result they were looking for.
Their foray into local politics sparked an interest in them both to begin to pay more attention to media coverage of national politics as well as to village assembly rallies.
But they admitted to being confused by some of the terms the media uses in political coverage.
The couple urged the media to use language that is easier to understand for junior high school students.
The village office began installing air conditioners in May, while a damage assessment to the school track is expected to be completed before the summer vacation.
Furukawa and Otsuki were amazed at how the power of words can translate into change.
They now harbor the hope that society can become a place where people's dreams and wishes come true when they express their thoughts concisely.