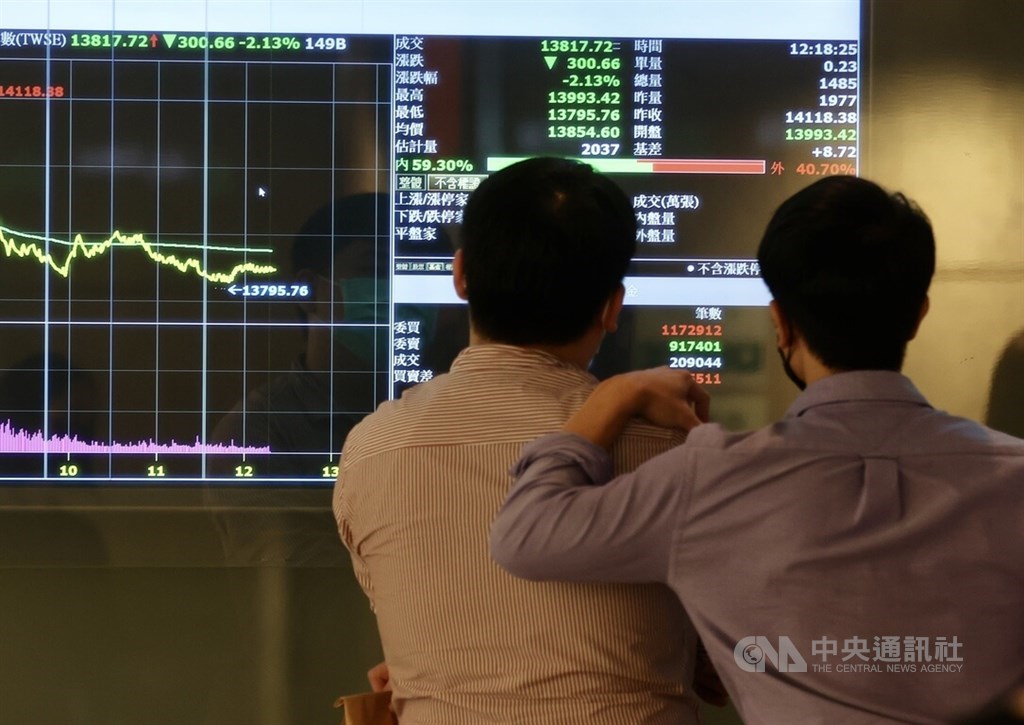 Taiwan stocks end more than 1% down amid US volatility, but losses are capped
Taipei, Oct 17 (CNA) Stocks in Taiwan fell more than 1% on Monday as selling was triggered by heavy losses in U.S. markets late last week on renewed fears of another aggressive rise rates by the Federal Reserve, dealers said.
While the flagship electronics sector was the driver of losses throughout the session, government funds would have stepped in, picking up large-cap non-tech stocks in the petrochemical and financial sectors to limit losses by the end of the session. end of session, they said.
The Taiex, the weighted index of the Taiwan Stock Exchange (TWSE), ended down 162.07 points, or 1.23%, at 12,966.05 after trading between 12,814.82 and 12,988.83. . Revenue totaled NT$206.73 billion (US$6.46 billion).
Wall Street Friday selloff
The market opened 1.06% lower in a knee-jerk reaction to a 1.34% drop in the Dow Jones industrial average and a 3.08% drop in the tech-heavy Nasdaq index on Friday, when the University of Michigan's inflation outlook rose, with the U.S. consumer price index (CPI) remaining elevated, dealers said.
Semiconductor heavyweights fell victim to a spike in the benchmark 10-year U.S. Treasury yield that topped 4% on Friday, signaling another expected move by the Fed to raise rates. However, as the Taiex edged closer to 12,800, some bargain hunters emerged to limit the downturn by the end of the session, dealers said.
The flagship electronics sector fell 1.62%, with the semiconductor sub-index down 2.73% after contract chipmaker Taiwan Semiconductor Manufacturing Co. (TSMC), the most weighted stock in the local market, lost 3.64% to close at NT$397.00 after its US price. certificates of deposit lost 4.05% in US markets on Friday. TSMC's losses contributed about 120 points to Taiex's decline on Monday.
"With rising interest rates making domestic and foreign tech stocks less attractive, local investors continued to punish liquid semiconductor heavyweights with TSMC leading the way," said Adam Lin, analyst at Moore Securities Investment. Consulting.
Inflation outlook data from the University of Michigan further raised concerns about a hawkish Fed after Washington reported that September's CPI rose 8.2% from a year earlier, outpacing market expectations of 8.1%, he added.
Tech stocks
"TSMC's recent large losses were largely the result of an outflow of funds as overseas institutional investors reduced their holdings and moved their money into US dollar-denominated assets, but I have to say the stock is now good. market against its fundamentals," Lin said, referring to a stronger greenback, which broke through NT$32 at some point on Monday morning.
Among other semiconductor stocks that fell, United Microelectronics Corp., a small contract chipmaker, fell 2.45% to close at NT$37.75, and smartphone IC designer MediaTek Inc. lost 1.20% to close at NT$578.00.
Against the recession, the shares of application-specific integrated circuit (ASIC) designer Alchip Technologies Ltd. rose 3.13% to close at NT$691.00, TSMC's ASIC design subsidiary Global Unichip Corp. gained 3.12% to close at NT$446.50, and packaging and IC testing service provider ASE Technology Holding Co. added 0.53% to end at NT$76.20.
Also in the electronics sector, iPhone maker Hon Hai Precision Industry Co. closed unchanged at NT$105.00, while flat panel display makers AU Optronics Corp. and Innolux Corp. TV screen prices showed signs of stabilizing.
Non-tech sectors
"The upside is that some of the losses were recouped as buying emerged to boost some non-tech stocks, particularly in the petrochemicals and financials sectors, offsetting the losses suffered by the electronics sector," he said. Linen. "I suspect the buying was from government-led funds, as the government just didn't want to see another fall amid US volatility."
Outperforming the Taiex, the petrochemical sector rose 0.62% to close at 218.96 from a low of 214.14. In the sector, Formosa Petrochemical Corp. rose 1.41% to close at NT$79.00, Formosa Chemicals & Fiber Corp. gained 1.06% to close at NT$66.50, Formosa Plastics Corp. added 0.88% to close at NT$80.60 and Nan Ya Plastics Corp. ended up 0.47% at NT$64.50.
Also supported by bargain hunters, the financial sector rose 0.80% with Fubon Financial Holding Co. up 0.52% to close at NT$48.70, from a low of NT$47.70. , and Cathay Financial Holding Co. closing unchanged at NT$37.65.
The transport sector was not so lucky, falling 4.04% amid continued concerns over lower freight rates at a time of weak global demand, dealers said.
Evergreen Marine Corp., the largest containerized cargo shipper in Taiwan, plunged 8.20% to close at NT$140.00, and rivals Yang Ming Marine Transport Corp. and Wan Hai Lines Ltd. increased by 4.46% and 5.67% respectively, ending at NT$60.00. and NT$64.90.
"Judging from today's move, I guess the government support was aimed at preventing the Taiex from falling below 12,809 points, an intraday low on October 13, when the main chart fell 2, 07%," Lin said. "But, the ability of the main board to stay above that level will depend on how the Taiwanese dollar performs at a time of continued flight of funds."
According to the TWSE, foreign institutional investors sold NT$8.76 billion worth of shares on the main board on Monday, when the US dollar rose NT$0.113 to close at NT$31.997 from a high of $32.015. NT.
Related News
October 17: US Dollar hits intraday high of NT$32.015 in Taipei trade
Recent trading sessions
October 14: Taiwan shares close up 2.48% at 13,128.12 points
October 13: Taiwan stocks plunge more than 2% ahead of US inflation data, TSMC meeting
Oct. 12: Taiwan Stocks Reduce Earlier Losses; TSMC dips below NT$400
October 11: Taiwan shares fall to 2-year low, TSMC plunges more than 8%