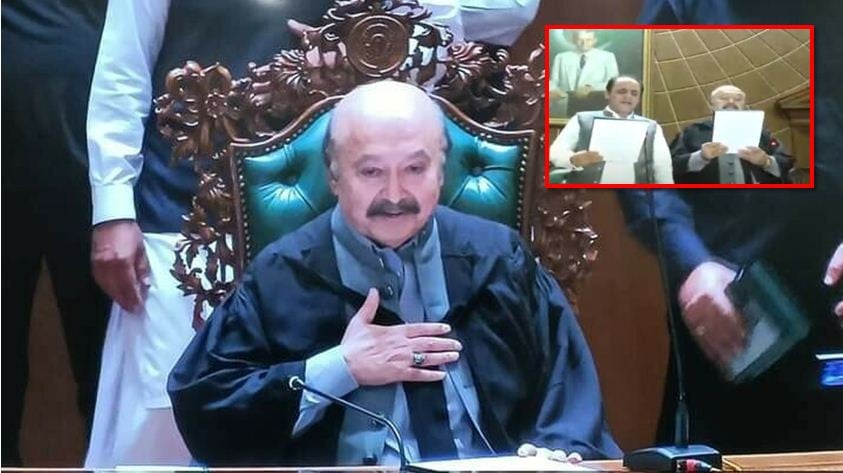 Sibtain Khan sworn in as Speaker of Punjab Assembly
LAHORE:

Sibtain Khan of Pakistan Tehreek-e-Insaf was sworn in as the new Punjab Assembly Speaker on Saturday in place of Chaudhry Pervaiz Elahi, who was elected as the province's chief minister, following a ruling of the Supreme Court earlier this week.
The Supreme Court's ruling overturned the former vice president's decision in favor of Elahi's rival Hamza Shehbaz of the Pakistani Muslim League-Nawaz (PML-N).
Senior Presidents' panel member Nawabzada Waseem Khan was sworn in to Khan during a session of the provincial assembly in Lahore.
After assuming responsibility, Sibtain thanked the PTI and PML-Q leaders for their confidence in him.
Khan won 185 votes from lawmakers from the PTI, PML-Q and other allies. His PML-N rival, Saiful Malook Khokhar, won 175 votes – three short of the total opposition of 178 in the provincial legislature.
Mazari deleted
The Punjab Assembly Treasury Benches also passed the motion of no confidence in Deputy Speaker Dost Muhammad Mazari in the early hours of Saturday, hours after Khan was elevated to the post of Speaker.
Lily ECP pushes for early PTI funding verdict
Khan presided over the no-confidence proceedings against Mazari. The Treasury showed a quarter of its total membership – 93 members – to present the no-confidence motion against the vice president.
Former Justice Minister Raja Basharat presented the motion against Mazari, which was carried out. Then the secret ballot began. But this time, a small number of PML-N deputies were present in the house to check whether or not the PTI would be able to collect all of its 186 votes.
The house resounded with the slogans of "Lotta" [turncoat] when Vice President Mazari entered the house. PTI lawmakers tried to approach him but their senior leaders stopped them. Some PTI lawmakers even used abusive language against him.
Eventually the PTI voted in full force, with 186 lawmakers having no confidence in Mazari, President Sibtain Khan announced that the motion had passed. The Speaker then adjourned the House until 1 p.m. Sunday for the election of a new Vice Speaker.