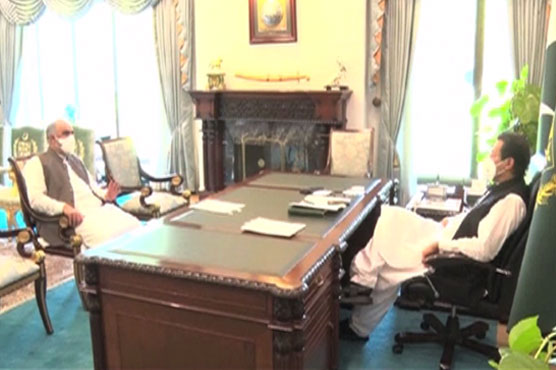 PM Imran laments heckling in National Assembly – Pakistan
Published on June 16, 2021 1:56 p.m.
The Speaker of the National Assembly, Asad Qaiser, called on Prime Minister Imran Khan.
ISLAMABAD (Dunya News) – Prime Minister Imran Khan on Wednesday lamented the heckling of the National Assembly session which saw the projection of budget books and the use of foul language.
According to the details, the Speaker of the National Assembly Asad Qaiser met with Prime Minister Imran Khan and briefed him on the events of the session of the National Assembly which saw the publication of the budget books and the use of foul language.
Asad Qaiser informed the prime minister that opposition lawmakers as well as the treasury banks were involved in the heckling and said he would take general action against lawmakers regardless of their affiliation.
The speaker said that the footage of the session was reviewed in the presence of the vice-president and the secretary of the assembly.
Ali Nawaz Awan, member of the ruling Pakistan Tehreek-e-Insaf (PTI) party, hit Pakistani Muslim League-Nawaz (PML-N) leader Sheikh Rohail Asghar with a book on his face after a heated exchange of words .
As soon as the leader of the opposition in the National Assembly Shehbaz Sharif began his speech in the National Assembly, there was a commotion from the government benches in the House and the members of the government rose to their seats. .
Federal ministers Shah Mahmood Qureshi and Fawad Chaudhry were also part of the slogans. On this occasion, members of the PML-N formed a fence around the leader of the opposition.
NA President Asad Qaiser urged the Treasury and opposition benches to exercise restraint, but failed to control the situation, after which he had to adjourn the session for 20 minutes.