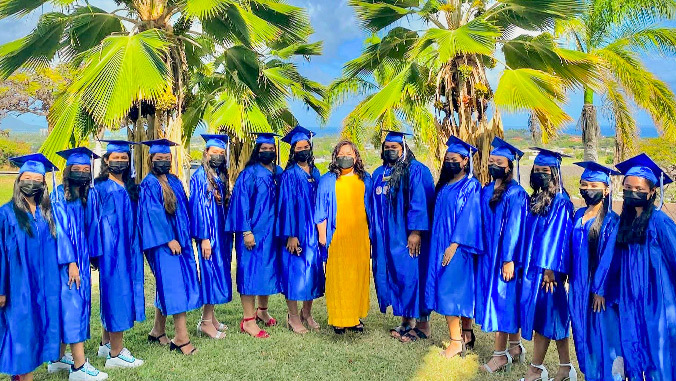 Health workers in underserved communities supported by $50,000 grant
Two dozen newly recruited community health workers, catalysts for reaching Hawaii's underserved communities, received a $50,000 grant from the Queen's Health Care System Native Hawaiian Program. The funds created a Community Health Worker Scholarship which was awarded to 24 students from Kapiʻolani Community colleges Community health worker (CSA) program.
These students recently completed the CSA program with their competency certificate. They received financial support for the 2021 academic year, in circumstances where the costs associated with attendance were far greater than tuition and fees alone. Funding was used to access technology devices, childcare, and safe and adequate housing, which allowed students to focus on their learning while instilling confidence in their course work.
"Queen's Health Care System Native Hawaiian Program Community Health Worker Scholarship at Kapiʻolani Community College has been an important support mechanism for students who want to better themselves, their families and their communities," said Joey Dewater, CSA Program Coordinator.
The CSA The program prepares students to act as patient advocates, connecting disadvantaged populations to community health resources. As trusted members of the community and valued parts of a health or social care team, community health workers provide health education, advocacy, research, and leadership to help others to take action and promote healthy communities.
More Community Health Workers Wanted
The CSA program was established at Kapiʻolani CC in 2017 but was invigorated by a Hawaii State Department of Health-uh Contact tracing training program grant in 2020. Since its inception, a total of 189 students have graduated from the program, more than 30 are currently enrolled and the program is recruiting for future cohorts.
Dewater said the program supports students statewide with a focus on recruiting from communities that are often underrepresented in health and human services and where there is a strong need for increased intervention. These people in underserved communities often have multiple barriers to college and many struggle to get a good post-secondary education or obtain meaningful careers because of their socio-economic status.
Preference given to Native Hawaiians
Recognizing the importance of recruiting and training individuals with relevant linguistic, cultural, and community knowledge, the Community Health Worker Fellowship has prioritized students of Hawaiian descent, trusted members of Native Hawaiian communities, and individuals whose the work will support Native Hawaiians and the community. health. Of the 24 graduates who received the scholarship, there were eight Native Hawaiian students, nine students with multiple language skills, eight single parents, one incarcerated alumnus, and a Waipahu High School alumnus who started the program in high school.
Nine work in jobs specifically for Native Hawaiian communities, and 19 work with other vulnerable communities through volunteering or employment with local health care services or organizations.
High school students complete their certificates
The donation from the Queen's Native Hawaiian Health Program also enabled the CSA program to provide tuition for 18 Waipahu High School students – covering tuition over two semesters. Of these 18 high school students, three students requested transfer credits to Kapiʻolani CC and have earned the 16 college credits required to receive a CSA competency certificate.
In May 2022, the CSA the first cohort of the program to complete the entire certificate program while still in high school graduated at Kapiʻolani CCit's the beginning. The program continues to attract interest from students with English as a second language, first generation students and many others.
Photo caption: Kapiʻolani CCThe 2022 graduates were among the first cohort to complete the Community Health Worker Certificate Program while still in high school.