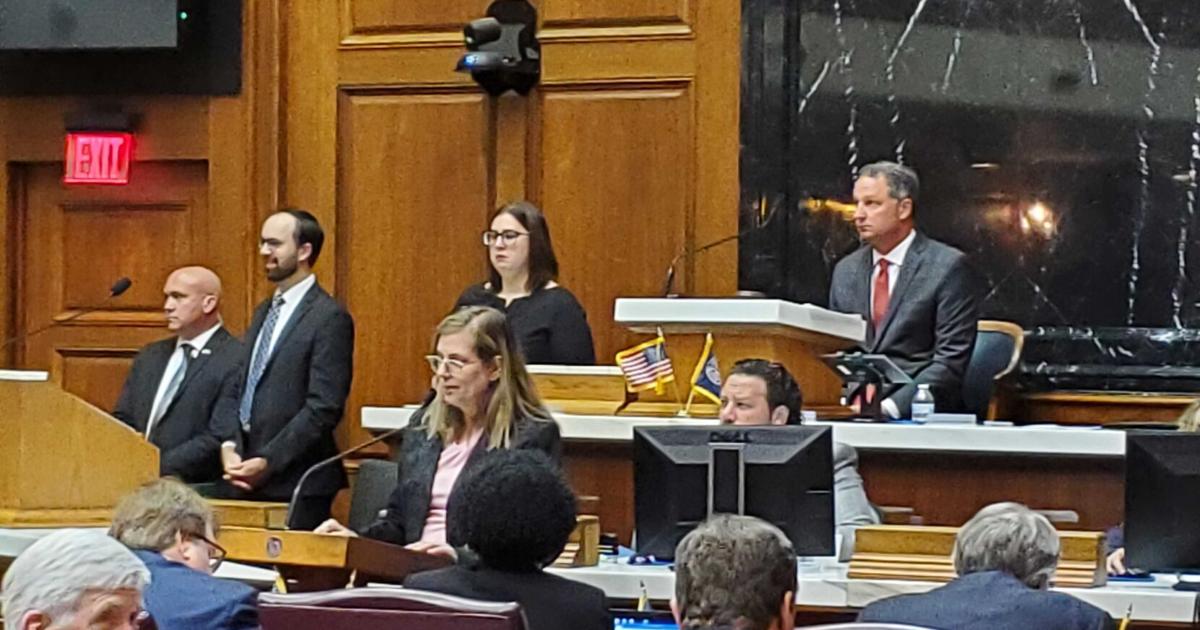 General Assembly Passes Bill Banning Most Abortions | City and State
INDIANAPOLIS — A Republican-backed abortion bill that would restrict most abortions in Indiana is on its way to Gov. Eric Holcomb's office.
After a hectic few days, the House conducted three readings of Senate Bill 1 and returned it to the Senate earlier in the day with two amendments for consideration.
The Senate passed it around 10 p.m. Friday with a 28-19 vote. Holcomb released a statement late Thursday saying he "looks forward to signing it as soon as it arrives" on his desk.
Most of the discussion in the Senate during a vote in favor of the House bill was in strong opposition to Senate Bill 1.
Senator Jean Breaux (D-34) said this bill is an attack on human rights.
"We are backtracking on democracy," she said, "creeping democracy toward autocracy."
All Senate Democrats voted against this bill, even some Republicans joined them in their votes.
Sen. Veneta Becker (R-50) said statewide polls show a majority of Hoosiers are against this legislation.
The demonstrators shout with his speech: "We are the majority!"
Even West Lafayette Sen. Ron Alting (R-22) voted no, saying "10 weeks in this area just isn't enough."
"In my heart and in my soul, I know you feel the same, but I feel like I'm on the right side of history," he said.
One of the only moments of silence of the day during the House session fell on the chamber as Rep. Maureen Bauer (D-6) discussed the third reading of Senate Restrictions Bill 1 on Friday. to abortion.
"The people of Indiana get involved in politics like their lives depend on it," she said, shaking and wiping away tears. Rep. Cherrish Pryor (D-8), who sits in the front row of the House chamber, leaned forward to pass him a handkerchief. "People are demanding their voice be heard on this issue."
Abortion rights advocates cheered from the room. The protesters were one of the reasons the chamber was rarely silent on Friday.
Since the Indiana Senate voted to send Senate Bill 1 to the House on Saturday, the three House readings have seen moving testimony, discussion and amendments to the bill, which ultimately passed by the House with a vote of 62 to 38.
The bill, while remarkably similar to the bill the Senate sent to the House on Saturday, still has a few amendments added.
Senate Bill 1 was introduced in the House as a blanket ban on abortion with exceptions for rape, incest, and the life of the mother. The rape and incest exceptions would have been in effect for eight weeks after gestation, 12 weeks for anyone under 16.
The full House debated the bill on Thursday, seeing nearly 30 proposed amendments from both sides. Only two amendments passed, neither of which changed much of the bill.
Amendment 10, the first amendment discussed on Thursday, changed the wording of the bill to "serious risk to the health" of the mother of the mother's life. He clarified certain cases in which a pregnancy would cause health problems, so that anyone who had serious health consequences, and not just permanent health problems, would be allowed to have an abortion.
The amendment also changed the time period in which the rape and incest exceptions could be used to 10 weeks, regardless of age, and removed the requirement for a notarized affidavit.
The last amendment proposed on Thursday was the next adopted.
Amendment 11 simply changed the start time of the bill. Now the bill, if passed, will go into effect Sept. 15 rather than immediately after Holcomb's signature.
Each of the other amendments, 56 more not even discussed, from both anti-abortion and abortion rights advocates, failed the vote.
Amendments 20 and 76 would have restricted access to abortion even more than the current Senate Bill 1. Both were rejected by both parties. Republicans had disagreements within the party over Senate Bill 1, with some saying it was a good bill, some saying it went too far and others saying it wasn't. not strong enough.
Karen Engleman (R-70) drafted Amendment 20 to remove the rape and incest exceptions.
"The end of human life has no place in medical practices," she said Thursday.
It was defeated 61-24, a majority of both parties.
Rep. Curt Nisly (R-22) proposed Amendment 76, which would have removed the term "abortion" from all Indiana law since Roe v. Wade and would have made it a crime. It would prohibit abortion in all cases, without exception, and shield it from any subsequent discussion in the courts.
"If passed, Senate Bill 1 becomes the abortion ban everyone is talking about," he said.
The vote on this bill was almost a unanimous "no" at 93-6.
Amendment 43, drafted by Rep. Sue Errington (D-7), would have a nonbinding referendum to directly ask Indiana residents how they want this issue resolved.
"I call it the 'let the people decide' amendment," she said.
She said the issue is important enough that enough people have a good idea of ​​what people want. It would bring a lot more people to the polls to tell us what they think, she said. The bill ultimately failed.
Once the bill passed, the few hundred protesters who stood outside the chamber of the House began to chant.
"Shame on you! Shame on you! Shame on you!"
In the chamber gallery of the House, members of the public echoed those sentiments. Several people said 'Shame on you' and one person said 'We'll remember this in November'.
A notable exception was one person, who shouted, "Thank you, Indiana!"
In the hall outside the chamber, tears welled up in the eyes of abortion rights protesters. They kissed. A protester whistled rape.
An anti-abortion protester was swarmed by abortion rights protesters trying to argue with him. They weren't yelling at each other for the most part, but abortion rights protesters followed him as he tried to leave.
When the Republican representatives who voted for the bill left the chamber, protesters shouted and pointed at them, chasing them down the hall.
Nancy Kohn, an abortion rights protester, held a sign that simply read "Kansas," in reference to Kansas' referendum earlier this week to protect abortion rights.
She said she used to research the effectiveness of sex education, and she's here partly because Indiana doesn't even require sex education.
Kohn grew up in Indianapolis, lived in Boston for nearly 50 years, and came back because she said her advocacy would do more good here in Indiana.
Rep. Chris Campbell (D-26), who represents West Lafayette, said she was in shock.
"It's a horrible day for women in Indiana," she said.
One of her friends, and a constituent, approached her with tears in her eyes. When Campbell asked how she was, she just shook her head and hugged her.
Abortion rights protesters gathered in small numbers outside after the House adjourned. A car passed, people inside were shouting "Pro-life!" while protesters responded "F– you!"