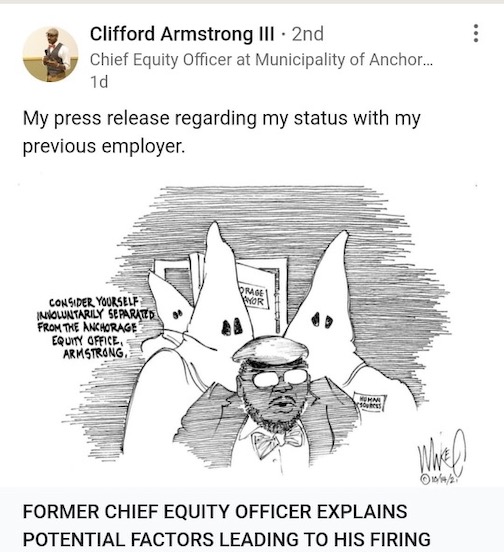 Former equities official issues statement with image depicting KKK firing him
Clifford Armstrong III, hired as Anchorage's first director of equity capital by former acting mayor Austin Quinn-Davidson, posted a cartoon on social media that appears to depict him being fired by three hooded people , presumably members of the Ku Klux Klan.
Armstrong, who was hired in April in Tacoma, Wash., Was earning $ 115,000 a year in a position that was at the mayor's discretion. He comes from a background of social justice as a community organizer. The Anchorage post was created by former mayor Ethan Berkowitz and approved by the Left Assembly by an ordinance that appears to say he cannot be fired without Assembly approval. Mayor Dave Bronson replaced him anyway.
Read: Bronson hires new equities manager, frees Tacoma man
Uluao "Junior" Aumavae of Anchorage is the new Director of Equity. Armstrong had, according to ARMK sources, been seen rarely at City Hall since Bronson took office on July 1.
Armstrong posted a statement on his professional LinkedIn page that explains his take on why he was replaced. He supplemented the press release with the Mike Meara cartoon, ostensibly for the Homer's News. In his statement, he says that unlike any other member of the administration, he participated in a nationwide search that was a "free, open, fair and verifiable application process like most governments to attract the best and most skilled workforce to their organizations.
He said he was hired for his technical skills, not for his political allegiance. Nowhere in his statement did he imply that his race was a factor – this was inferred from the cartoon he used to illustrate his press release.
Armstrong's statement in its entirety:
"I would like to inform the public of my understanding of my involuntary separation, or termination, by the Bronson administration on Thursday, October 7, 2021. I hope that with the information I provide, most of which is already public information, the public can make informed decisions on how they want to defend the office and the job they fought for in 2020.
"A lot of people have asked why they thought I was fired. I cannot give you a definitive answer because no cause has been given. However, given the circumstances, several factors appear to have come into play.
"The first reason, which was the most targeted, is the summary report of the positive action plan (PAA) that I submitted shortly before my dismissal. I, in collaboration with others, produced a report which identifies the disparities in the hiring and action of personnel at the Muni. The report recommends specific actions to be taken by February 2022, when a formal report and plan are expected. The administration claimed that the report and it is [sic] the implementation will continue to be worked on in my absence. I ask the public to know by whom and how this person would know what to do given that the Muni had not addressed any of the issues I wrote about in memory of the staff I consulted.
"The second reason is that it became very clear that I was not like other senior officials in the administration who, with few exceptions, did not participate in a free, open, fair and free national application process. verifiable like what most governments do to attract the best and most skilled workforce to their organizations. I was hired for technical skills and not for political allegiances. functions, my obligation was to follow the municipal code.You will have to decide for yourself whether technical competence and legal compliance are valued by this administration.
"The third reason has to do with the budget process. Without my consent, the 2022 budget proposal shows the Office of Equity and Justice (OEJ) without the connection to the Assembly that was originally placed there. Additionally, there have been about 4 different changes to the municipal code or policies and procedures that I wrote specifically to improve organizational processes related to equity and justice. In particular, the drafts related to access to languages, section 3, the affirmative action plan and the roles and responsibilities of the OEJ and the head of equity. This included additional staff to do the job well. The administration has categorically denied having made any progress on any of these proposals.
"The fourth reason is linked to political commitments. In a public forum, the mayor said he viewed my office and post as unnecessary and something to be deleted once the election is won. This obviously did not happen and he has since appointed someone else, much less technically qualified than me, to take the job. The administration is clearly engaged in a political feud with the Assembly, and my position and office were convenient pawns in a larger conflict unrelated to my ability to do my job.
"I am disappointed to have lost my place in these circumstances. If offered to me, I would love to have the opportunity to serve the people of Anchorage again.