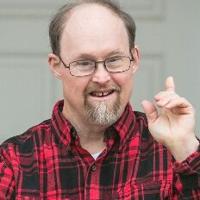 Edward Lee Kurtz | Obituary
Edward Lee Kurtz, 58, of Lititz, Pennsylvania, formerly of Grimesland, North Carolina and Elizabethtown, died in the arms of Jesus Thursday afternoon March 24, 2022 at home. Born in Lancaster, he was the son of the late Jacob L. Kurtz and the late Lois Gish Kurtz Martin.
Edward was a committed witness to his Lord, Jesus Christ, and a member of West Green Tree Church of the Brethren. He also attended Ignite Church and was involved in the Fellowship of Christian Athletes. He graduated from Landisville IU-13 and was employed for 24 years by Ephrata Area Rehabilitation Services as an assembler and packer. He also frequented Wawa convenience stores.
Edward resided with Friendship Communities from 1984 to 2007 until he moved in with his carers, Shane and Cheryl Richardson. Besides watching NASCAR and Penn State football, he enjoyed marching bands and playing the harmonica.
In addition to his caregivers, Edward is survived by four siblings, Barry, husband of Mary Kurtz, of Adams, MN, Janet, wife of James Rhen, of Manheim, David, husband of Mary Kurtz, of Panama City, FL, and Fred, husband of Sandy Kurtz, of Elizabethtown; a half-brother, Larry, husband of Diane Martin, of Myerstown; one sister-in-law, Karen, wife of the late John Kurtz, of Mount Juliet, TN; and several nieces and nephews. He was also predeceased by his stepfather, Lester N. Martin.
Details for attending a celebration of life service to be held in June will be announced at a later date. There is no public viewing. If desired, contributions may be made to Friendship Communities, 1149 East Oregon Road, Lititz, PA 17543. To express condolences to the family or for more information, visit www.spencefuneralservices.com.