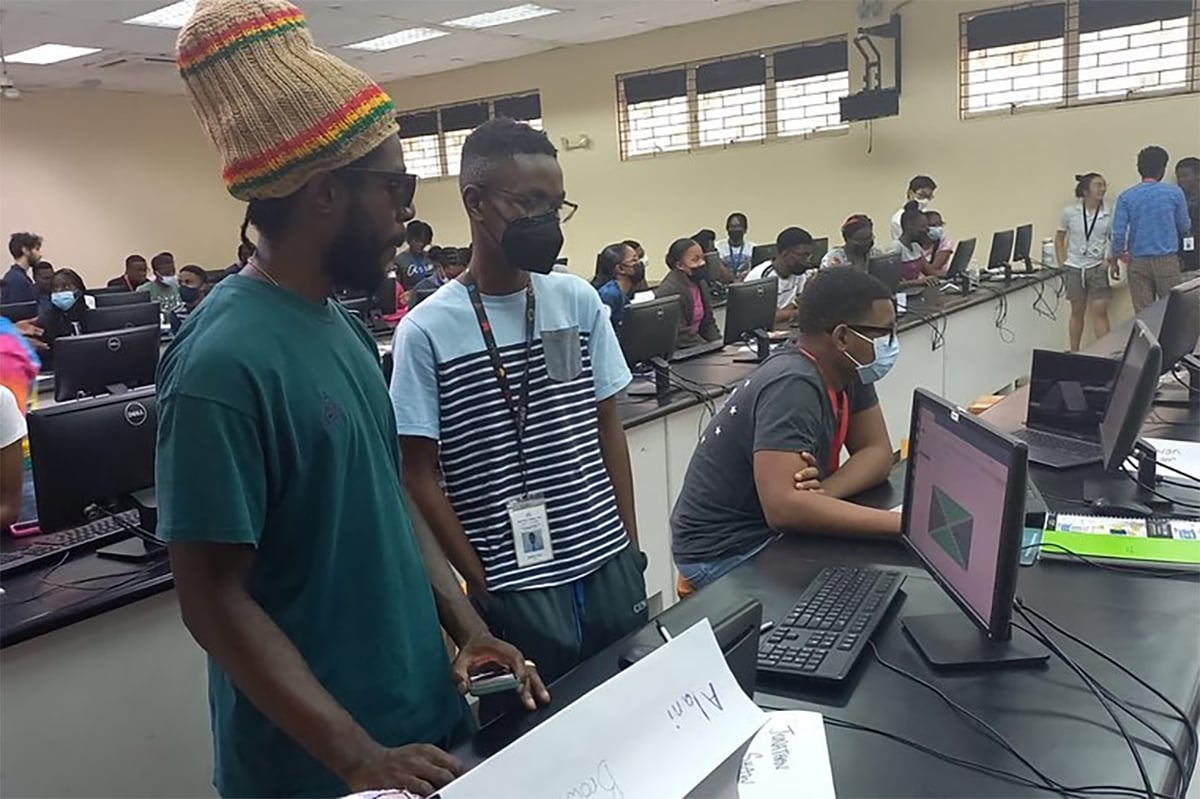 Chronixx Visits Jamcoders Algorithm Coding Camp in Kingston
Reggae/dancehall superstar Chronixx visited the University of the West Indies' Mona Campus in Kingston, which hosts his free Jamcoders Algorithm Coding Camp which kicked off last week on Monday.
The jamcoders shared footage of Chronology artist during a site visit to the base of the programming residential camp, which targets Jamaican high schools and of which he was the main donor.
"Thank you Chronixx for your support and for visiting JamCoders today. #jamcoders2022," the caption read.
In May of this year, Jamcoders announced that Chronixx had partnered with AddisCoders/JamCoders founder Jelani Nelson to bring the educational technology program to Jamaica. The summer camp, which runs July 4-29, will host 50 students from across the island to learn coding and artificial intelligence with faculty from Harvard and UC Berkeley.
During the virtual launch of the camp a few weeks ago, the Rockin' spanish town The singer said it was the official start of something he hoped would have "a long-lasting and positive effect on our young people by developing them for a significant role in global development and preparing them for transformation. inevitable part of the landscape here in the Caribbean".
"Hopefully we can have that every year…and a more inclusive program for the Caribbean in general and for other West Indian students. I'm really excited and I have a sense of hope and also a sense of direction to where this will take us and a revolution in technologies that can move our people forward; which is created by our people. So that's the start. So give thanks for the genesis of the heart of love," Chronixx had said.
The Jamcoders program is heavily influenced by AddisCoder, which is a free four-week intensive summer camp focused on programming and algorithms in Addis Ababa, Ethiopia.
The program, according to Jamcoders officials, was made possible through the efforts of Chronixx's charity, the Caring Hands of Rastafari Foundation, which had "donated generously to make summer camp a reality in Jamaica." . Other donors include the Survival and Flourishing Fund and the DE Shaw Group.
Organizers also noted that Chronixx conceptualized the idea of ​​having the camp after hearing about the AddisCoder program in Ethiopia.
The program is open to students in grades three through five and programming experience is required.
The fully-funded program offers free dorms and meals to all participating students, but targets students who have excelled academically in their schools, especially in math and related subjects. So far, 50 students are enrolled, with two-thirds remaining on campus according to reports.
The camp is coordinated by Computer Science Lecturer, Department of Computer Science, UWI Mona Faculty of Science and Technology, Dr. Daniel Fokum, and Professor Jelani Nelson, Department of Electrical Engineering and computer science from the University of California, Berkeley, and founder of AddisCoder, Inc.
The JamCoders summer camp aims to allow students who have never programmed before to learn how to do it. It consists of two-hour sessions in the morning. For three hours in the afternoon, students will work on programming tasks.
Chronixx is no stranger to educational projects. In November 2017, he announced that he was building a school in Ghana and participating in a major renovation project at our Haile Selassie High School in Kingston in conjunction with members of the Rastafarian community, including Bob Marley's granddaughter, Donisha Prendergast, to make it a reality. by July 2018.
Chronixx had described the ventures as noble endeavors in which all members of the global Rastafari and cultural community should participate.